CEO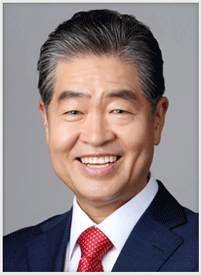 CEO's Message
To all our customsers who have provided support
and patronage to Daesung Global Nerwork,
Above all, we feel obliged to express our sincerest thanks to all our valuable customers
who have provided so much unwavering support and patronage, enabling Daesgung
Global Network to achieve great development and growth. Daesung Global Network,
as a subsidiary of Daesung Group boasting 60 years of history, is engaged in the energy
and environment, construction and telecom, EU-learning, and CRM businesses.
The CRM Division was spun off from the customer service center of Korea Cable
Television Kyunggi Center Co., Ltd. in June 2003, and embarked on the CRM
outsourcing business. It then acquired and merged with an education consulting firm,
thereby laying solid foundations for a customer services business. Furthermore,
it constructed its Seoul Center, equipped with the latest IPPC-based communication equipment and a seating capacity of
300, and its Daegu Center with a seating capacity of 550; as such, the CRM Division is fully equipped to perfectly resolve
any of its customers'CS requirements.
The CRM Division of Daesung Global Network possesses total solutions ranging from structuring and operation consulting
for customers's contact centers to full outsourcing services, making us your perfect business partner. As an application
service provider utilizing superior hi-tech equipment and facilities, we are committed to becoming your reliable partner and
maximizing your business capabilities.
We cultivate accomplished consultants armed with superior know-how, who are ready to provide outstanding services for
your telemarketing campaigns.
The CRM Division of Daesung Global Network aims to achieve world-class global standards in CS, and is reinforcing the
competitiveness of its core capabilities in order to become an acclaimed corporation in the global market.
We at Daseung always put our beloved customers first. Contact Daesung Global Network and we will provide you with the
optimum total solutions anytime, anywhere, and do our utmost to become a true partner in your marketing success.
Daesung Global Network offers you warm and committed CS !
Thank you very much.

Younghon David Kim, Chairman and CEO,
Daesung Group